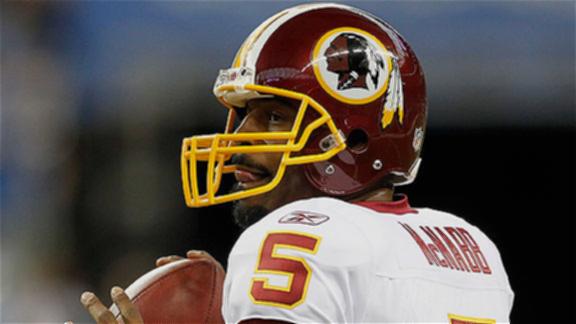 During an appearance on ESPN's Pardon the Interruption, SI.com's Peter King dropped a bomb when he stated he has a hunch that quarterback Donovan McNabb could wind up with the Miami Dolphins.
"There is not a lot of buzz out there about Donovan McNabb. For some reason, I believe he winds up in Miami," King stated.
Miami could benefit from adding a veteran quarterback to the roster. They current have Chad Henne and Tyler Thigpen as options behind center. There is also speculation that the Dolphins could add former Ohio State Buckeye Terrelle Pryor in the Supplemental Draft, but he will not be ready to start immediately.
McNabb would make a lot of sense in Miami. He gives them the veteran presence they are looking for and he could be a mentor for the young Pryor if he winds up in South Beach.
Tags: Donovan McNabb Donovan Mcnabb Dolphins Donovan Mcnabb Free Agent Donovan Mcnabb Miami Dolphins Miami Dolphins NFL NFL News Nfl Rumors