Ray Lewis dances one more time in Baltimore at M&T Bank Stadium. He hand's off the trophy before doing the dance, I think he should've done the dance trophy in hand.
The stadium is so full they had to stop letting people in, estimated attendance inside the stadium is roughly 80,000. Ravens owner said that they originally esitmated 30,000 people would attend.
The Ravens players were in military vehicles, and the fans broke the barriers to get closer to Ray Lewis and walk down the street with with. They had the police officers on horseback escort Ray Lewis to keep fans at bay.
This caused the Ravens to arrive late to their Super Bowl party inside the stadium.
He danced, enjoyed the moment, invited teammates to come do the dance with him.
Ray Lewis thanked Baltimore and said "Baltimore, forever my city" in the celebration.
Ed Reed also wore a camera on his head to document every step.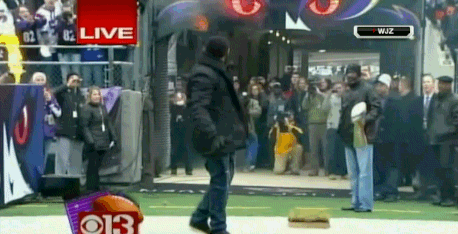 Bleacher Report for the GIF above