2.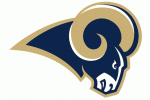 St. Louis Rams (from Washington)
What do they need?
Reason I'm going to go with another offensive tackle as the Ram's #2 overall draft choice (they drafted Baylor OT Jason Smith #2 overall in the 2009 draft) is because in reality I don't see a need for the Rams to draft yet another QB in the first round (drafted QB Sam Bradford #1 overall in the 2010 draft). This season had Zac Stacy burst onto the scene in week one and had starting QB Sam Bradford not torn his ACL in the 7th week against Carolina, then this Rams team would have definitely had a chance to make the playoffs. What this team really needs help in is in its' passing offense and its' pass defense. Their pass defense ranked 19th in the NFL allowing 242.1 yards to opposing QBs along with 21 passing touchdowns, including a stretch from week 10 to week 15 where the Rams allowed on average 342 yards per game along with at least one touchdown or more given up in every game. Where they could use some help in this draft could be at the Strong Safety position. This season Rodney McLoed defended 7 passes and only intercepted 2, the Rams could use a safety that can help shut down the often effective passing games of the NFC West.
When looking at the #2 pick, what it is, is not a chance to grab a great pick, but rather a chance to grab a great pick that the first team missed. In reality Johnny Manziel could be selected first overall by the Texans. Would it be a mistake for the Rams to pass up on Manziel or any other QB for that matter? I don't think so. Don't get me wrong any offense could use Johnny football and his elusive running abilities, but I think before the Rams start thinking about another first-round QB selection, they should be trying to fix their other problems first and foremost. They will have more picks down the line, that is when they should chose another QB. Sam Bradford (the Rams' first round and #1 overall draft choice in 2010) hasn't been spectacular, but he hasn't been horrible either. I think this season should be an indicator for him and the Rams as to whether keep him or ditch him. Basically what the "indication season" means is this: Bradford has averaged 225.8 yards per game (more yards per game than "elite" Joe Flacco) as well as a touchdown to interception ratio of 1.55:1, better than Eli Manning and Flacco. I think this season you give Bradford one last chance to earn his #1 overall pick status, if he doesn't perform up to expectations (let's say 4,000 yards and at least 22 touchdowns), then start preparing to draft another QB in the 2015 draft. For the time being though, surround Bradford with some A-Class talent and give him the best opportunity to succeed in this offense. They've got two beast rookie runners in bruiser Zac Stacy who rushed for 973 yards and 7 touchdowns in his rookie season out of Vanderbilt and speedy Benny Cunningham who averaged 5.6 yards per carry on 47 carries in 2013. As well, the Rams have a lot of underrated receiving talent in rookie Tavon Austin (#8 overall pick from 2013), reliable Chris Givens (569 receiving yards) and physical, 6'5″ TE Jared Cook (671 yards and 5 touchdowns). In this draft look for the Rams to concentrate on the defensive passing game in their corners and safeties and their offensive tackles more than anything else.
Jake Mathews
Offensive Tackle, Texas A&M
The Rams have been known for their frequent losing seasons and their frequent high number draft picks. While the offensive line ranked 25th with only 36 sacks allowed, the average age of their offensive line is 27.4 years old. Out of Texas A&M, Mathews has played superlative football protecting Johnny Manziel for both his freshman and sophomore seasons. At 6'5″, 305, Mathews is a big and punishing lineman, many times able to plow through opposing defensive lines with his long arms alone. As a Senior he has protected the best QBs in Dolphin's QB Ryan Tannehill and Johnny Manziel. I believe he'll be able to protect Sam Bradford the same way and prevent him from being sacked and tearing his ACL again. Where I think Mathews will be able to help out this team the most is in his ability to run block. With a 5.08 40-yard dash time, he is quick, not as quick as other offensive tackles in the draft, but he makes up for that lack of speed with his brute strength. Look for Mathews (if he earns the starting job) to be a major, key component to the Rams success running the football. They have two of the most underrated runners in football, it's time to use them to your advantage. I think with Mathews' unbeatable combination of size and experience with the running game, he cold be the X-factor that propels this offense into the playoffs.