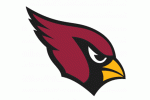 #20-Arizona Cardinals
Overall
At 10-6, the 2013 Arizona Cardinals were perhaps one of best playoff snubs of this season. Because of inopportune and close losses against Philadelphia and San Francisco in weeks 13 and 17, the Cardinals missed the playoffs by barely a half of a game. This season the Cardinals definitely deserved to be in the playoffs, beating out supreme teams such as Carolina (22-6 in week five), Indianapolis (40-11 in week 12) and even the eventual Super Bowl Champion Seattle Seahawks (17-10 in week 16). Outside of the NFC West, the Cardinals went 8-3, winning their non-division games by an average of 10.6 points per game, however at that same token the Cards lost their six overall games by an average of 9.5 points per game. The problem with this 2013 Cardinals ball club wasn't inconsistency over the long term, but rather poor timing in the short term. They were inconsistent to start the season (losing weeks one and three and then winning weeks two, four by a combined margin of -20 points), but then after week eight, pulled off an amazing streak, winning seven of their last nine games. However, one of their two losses came on the last week of the season against none other than the eventual NFC Championship game participant San Francisco 49ers which virtually eliminated them from all playoff contention. What the Cardinals showed this season was despite playing against one of the best divisions in football and despite starting off with a 3-4 record after seven games, they were still able to muster all of their collective strength and make a legitimate push towards the playoffs.
Offensively
After Kurt Warner finally retired from the NFL in 2010, he left the Cardinals in pretty poor shape at the quarterback position. From the first game of the 2010 season till the last game of the 2012 season, the Arizona Cardinals went through a total of eight quarterback changes, going from Derek Anderson to John Skelton to Max Hall to Kevin Kolb back to John Skelton back to Kevin Kolb to Ryan Lindley and then finally to Brian Hoyer. In short the seasons leading up to 2013 were what some may call a "train wreck." It is no wonder that Larry Fitzgerald, once catching for over 1,400 yards in 2005, 2007 and 2008, was limited to just 798 yards and four touchdowns on just 71 receptions in 2012. The main reason for Fitzgerald's lack of production is not his lack of talent, but rather because his lack of a solid and consistent starting quarterback. It is this reason alone that the Cardinals most likely attained an average record of 6-10 from 2010 to 2012. But alas, with the signing of former USC QB Carson Palmer, the Arizona Cardinals were given an all-pro passer that would give them an awesome presence behind center week-in and week-out. This season on offense the Cardinals weren't spectacular, however they got the job done when needed.
This year Palmer and the Cardinals passing offense averaged 250.1 passing yards per game this season (13th in the NFL) while the Cardinals running game averaged just 96.3 rushing yards per game (23th in the NFL). Where the Cardinals were strongest was obviously in their passing offense with breakout star WR Michael Floyd (1,041 and five touchdowns on 65 receptions) and the always exciting veteran Larry Fitzgerald (954 yards and 10 touchdowns on 82 catches, most touchdown catches since 2009 (13)). Although QB Carson Palmer did play outstanding football this season with a 63.3% completion percentage, 4,274 yards (career-high) and 24 touchdowns, there were some parts of his game that could have and did cost the Cards some games. For instance in 2013 Palmer threw a total of 22 interceptions and fumbled the ball six times as seven of Palmer's 16 games played included him throwing two or more interceptions (only four games all season without an interception) and in six of those same 16 games Palmer threw for under 58.5% completion percentage. With that said though, some may be thinking that the Cardinals need to draft another QB in case Palmer's interception issues persist, however I strongly disagree with drafting a QB right now. Palmer is 34 and still has a good 3 seasons left in his career. Now on the flip side of that offense, the running game for this Cardinals offense has been a mixed bag.
While Rashard Mendenhall was given 217 carries in 2013, he was only able to rush for 687 yards (only 3.2 yards per game this season). The Cardinals 6th round steal Andre Ellington showed the NFL that the best RBs don't always come in the first rounds with 652 yards and three touchdowns on 118 carries in 2013 (5.5 yards per carry). Where the Cardinals should have changed their offense was in giving Ellington more carries when he deserved them. For instance in his first 5 games, Ellington rushed for over 5.0 yards per carry in every single game, averaging 6.8 yards per carry from weeks two to six. Next season and in this draft I believe that the Cardinals most likely need to dump Mendenhall after his brief stay and utilize Ellington as their primary back. Ellington is a beast and has shown to be effective with the ball in his hands no matter what defense he is facing. Perhaps if the Cardinals were to select any offensive players, they should definitely go out and get a TE. Other than Larry Fitz and Mike Floyd, the Cardinals don't really have any other passing weapons. Adding perhaps a dual-threat blocking and pass-catching tight end to the mix could help out of the Cards immensely.
Defensively
Last season I believe it was the Cardinals defense which helped 10 of the 10 Arizona Cardinals wins. In 2013 the Cardinals defense was ranked 6th and 7th in the NFL, only allowing 317.4 total yards per game and 20.3 points per game, respectively. Where the Cards really stood out from the rest o the pack was with their 3-4 LB corps and their ability to stop the run. This season the Cardinals' run defense was the best in the NFL, allowing only 84.4 yards per game this season along with just four rushing touchdowns to opposing running backs. In 2013 alone the Cardinals allowed opposing backs to rush for over 100 yards only two times. Two times (back-to-back weeks against Seattle and San Francisco). Other than those two games, the Cardinals run defense has been absolutely outstanding, however not the same can be said about the Cardinals pass defense.
This year the Cards ranked 14th in the league with 233.0 passing yards allowed per game. Although 233.0 yards per game allowed isn't a lot of yards, where the Cardinals were killed this season was with passing touchdowns allowed. In their 16 games this season, the Cardinals allowed opposing QBs to throw two or more passing touchdowns nine times. In seven of the Cardinals games this season, their pass defense allowed opposing QBs to throw for 278 yards or more. Where the Cardinals could have done better was limiting those touchdowns and helping out their passing offense by not allowing opposing offenses to go for huge yardage. In the Cardinals six losses this season, their passing defense allowed opposing QBs to throw for 279.2 passing yards and 2.5 passing touchdowns per game. If the Cardinals are going to have even the slightest chance of making the playoffs next season, they will definitely need to hanker down on the passing side of the ball and stop opposing QBs from putting points on the scoreboard. At the same token they also will need a player that can help Arizona get pressure on the QB and help keep this running game as dominating as it is. Defensive ends Calais Campbell and Darnell Dockett played outstanding last season, combining for 18 tackles for loss and 13.5 sacks in 2013. However, defensive tackles Dan Williams didn't fare as well as ends Campbell and Dockett, only 23 combined tackles and one sack in 13 games played. Where the Cards could improve could be at the defensive tackle position, but as well at the free safety position. Last season Patrick Peterson and Yeremiah Bell played extremely well, however the Cards didn't really have a solid free safety to anchor the Arizona secondary. Look for those two defensive positions to be a big thing come draft time.
Possible Draft Options
In this draft the Cardinals will have ample opportunities to make some great draft picks. As we highlighted above, they need some help in the receiving corps and at the defensive tackle position and safety position as well. The Cards need another receiving option for Carson Palmer and I believe that 3rd round would most likely be the best time to draft an underrated tight end. For example TE Austin Seferian-Jenkins out of the University of Washington would be a great pickup for the Cardinals (granted no other team picks him up before them). Seferian-Jenkins is an absolutely potent red zone threat and could pay huge dividends for the Cardinals when their running game fails close to the end zone in high pressure situations. As well on the defensive end, Arizona could end up going with junior FS out of the University of Louisville, Calvin Pryor. Pryor has been known around the college football as a hard-hitter and should add another exciting element to this defense. If all goes in the Cardinals favor come draft time, expect either of these guys to be picked by the Cards in the draft. In reality there is no need to get a QB, perhaps a late round pick for an offensive lineman, however the main focus of this team is on its pass defense and receivers.
Tags: 2014 Draft 2014 NFL Draft 2014 Nfl Mock Draft AFC Analysis Arizona Cardinals Draft Draft Analysis Football Louisville Cardinals Minnesota Golden Golphers Mock Draft NFL NFL Draft Nfl Free Agency Nfl Mock Draft NFL News Nfl Offseason Ra'Shede Hageman Rumors Seattle Senior Bowl Syracuse Orange Tennessee Titans University Of Louisville University Of Minnesota Golden Gophers University Of Pittsburgh University Of Syracuse