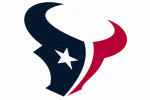 1. Houston Texans
QB Johnny Manziel, Texas A&M University
Team Needs
Since day one of the off-season, the Texans have made clear their need for a franchise QB. With Matt Schaub being named the starting QB of the Oakland Raiders, the Houston Texans have solidified their need to draft a QB #1 overall. Last season with the lack-luster duo of Matt "Pick Six" Schaub (231 yards per game, 14 interceptions in 10 games) and Case Keenum (220 yards and 54.2% completion in eight games), the Texans offense sputtered to just 17.3 points per game, ranked second worst in the NFL next to the Jacksonville Jaguars.
Reason for the Texans lack of an offense last season was due to a lack of health. Franchise RB Arian Foster, Ben Tate, TE Owen Daniels and Garrett Graham all missed time due to injury in 2013. This draft for the Texans is not a question of whether or not they will draft a QB, but rather who they will draft as a QB. Rumors have been swarming from all over the media saying Bortles, Bridgewater, Manziel, and even Derek Carr could go #1 overall. This draft is littered with QB talent, it would be a shame if the Texans didn't use their #1 pick to their advantage.
Player Evaluation
Johnny Football has been an absolute beast in college football ever since he started his first game at A&M. During his freshman season, Manziel was a scoring dynamo, passing for 3,706 yards, 26 touchdowns on just nine interceptions and a 68.0 completion percentage while rushing for an astonishing 1,410 yards and 21 touchdowns on 201 attempts (an insane 7.01 yards per carry). His performance in 2012 earned him the Heisman trophy, the only Freshman to do so in NCAA history. Next season in 2013 Manziel was admittedly not as dominant as his freshman season, particularly in the running game, however he was able to work on and improve his passing game exponentially. In 2013, Manziel passed for a healthy 4,114 yards and monstrous 39 touchdowns on a 69.9 completion percentage (completed 300 out of 429 pass attempts) while adding 759 rushing yards and nine rushing touchdowns from scrimmage. Manziel's season was tough to say the least, however in big games against ranked Alabama, Auburn, Vanderbilt and Duke, Manziel played extremely well, passing for an average of 401.25 yards, 4.25 touchdowns and a 73.95% completion while adding 57.5 yards per game on the ground. The stats speak for themselves, the question is whether or not he can sustain it against NFL defenses. Only time will tell.
Why Manziel?
The NFL has seen it's share of booms and busts. (Everyone remembers the unfortunate ballad of Ryan Lief). With Johnny Manziel, he has to much to lose in the NFL. Although he may be 6'1″, 207 pounds, he is one of the most talented QBs in this year's draft. For starters, Manziel runs a 4.68 40-yard dash time, 31.5″ vertical leap, and can shuttle in 4.05. Looking at his playing style though is where Johnathan Football separates himself from the rest of the pack. He's fast, but it is how he uses that speed to his advantage that really makes him a worthwhile QB. For instance, because he is a dual-threat QB, he has the ability to tuck it and run if persuaded. However, as the NFL becomes smarter and smarter about the read option offense, the use of dual threat QBs will start to get less and less as well. For the time being though, if pressured in the pocket, Manziel can use his nimble and agile body to avoid defenders and throw a strike down the field. I will admit that Manziel is a gamble, he is. But they don't call the NFL 'The Big Show' and they don't call Johnny Manziel 'Johnny Football' for nothing.
In picking JF2K14 (Johnny Football 2014), some may argue Manziel will drag the Texans down, however I believe that Manziel's leadership and tenacity/passion for the game will help them rise above. Manziel is technically a pocket passer by design, however where he excels most is outside of the pocket. When looking at Manziel from the outside looking in; great and perhaps a bit underrated arm strength, not that of Bortles or Carr where they can bomb footballs down field, but he can still throw it medium range with great accuracy and speed. What is great about Manziel is his great accuracy in the pocket, but also his undeniable ability to complete passes on the run and in high pressure situations. Because he has the magic touch, throws under pressure and across his body can be made with relative ease by Manziel. His throwing motion is compact, but he uses all of his genuine arm motion when slinging the football.
To sum it up, his speed and throwing technique are what separates him from the rest of the QBs in this draft. A lethal combination such as that is something that not many QBs in the draft, let alone the NFL have. He's a player, but more importantly, he is a play-maker who can make big things happen in big situations. The NFL's a big stage, but this kid is as ready as ever to step up.