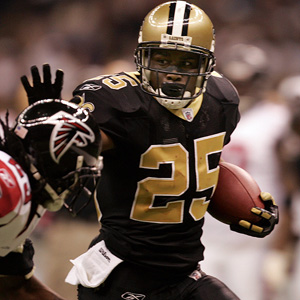 New Orleans Saints running back Reggie Bush is set to make $11.8 million this season, which is the final year of his contract. The huge payday, along with the Saints signing fellow running back Pierre Thomas to a four-year extension and drafting Alabama star Mark Ingram in the first round of the draft, has many believing Bush will not return to the team in 2011.
While there are many reasons for the Saints to release Bush, there is one reason for them to keep him. He wants to stay in New Orleans and he is willing to restructure his deal.
"I want to be back with the Saints. I think our No. 1 priority is to stay with the Saints, restructure a deal where both sides are happy," Bush told The Times-Picayune. "It's just about getting this lockout out of the way so we can do that.
"So right now, everybody is kind of stuck in limbo right now. I can't talk to the team. I can't talk to the coaches. So it's weird. A whole offseason without football is kind of weird."
If the Saints do not take Bush back, there are plenty of teams who would be willing to sign him.
The Miami Dolphins, St. Louis Rams, Tampa Bay Buccaneers, New York Jets, Seattle Seahawks and Philadelphia Eagles are among the teams rumored to be interested in Bush's services. The former Heisman Trophy winner has been limited in his career due to injuries, but he has shown flashes of brilliance.
Tags: New Orleans Saints NFL NFL News Reggie Bush Reggie Bush Contract Reggie Bush New Team Reggie Bush Saints