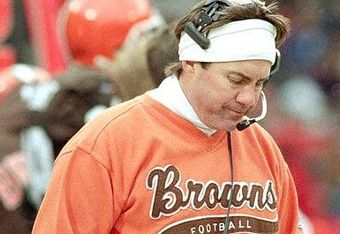 Current New England Patriots coach Bill Belichick is no stranger to controversy, so he is perhaps better equipped to deal with this new distraction than any other head coach in the NFL. Belichick is now facing claims that when he was with the Cleveland Browns he payed players to start fights.
One player in particular, former practice squad defensive lineman Chad Eaton, explains that Belichick would give him extra money to start fights during practice.
"If practice was going slow, he'd look at me and just say, 'It's time,'" Eaton said. "He wanted me to get on somebody's [case] and start a little fight. I was known for that and it paid off on Fridays. There'd always be some extra money in my locker. Practice players don't make much, so I really appreciated it."
If the claims by Eaton are true, it is just the latest scummy move that "The Hoody" has been linked to. While it may not be a common practice or really respectable, it doesn't take away from the fact that Belichick is a fantastic coach and one of the best in the league.
Most likely, Belichick will not face any disciplinary actions. That is where your opinion comes in. Should the league investigate this an see if Belichick is still using such practices? Should Belichick be suspended for his past behavior? The simple answer is no. Let the past be the past and let's admire Belichick for the fantastic coach he currently is.
To stay up to date on the latest from NFL Spin Zone, become a fan on Facebook or follow us on Twitter
Tags: Bill Belichick Bill Belichick Browns Cleveland Browns New England Patriots NFL NFL News