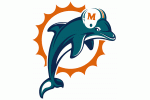 #19-Miami Dolphins
This season for the Dolphins has seen the highest highs and the lowest lows. After winning their first 3 games the Dolphins fell off the wagon and attained a record of 2-6 in their next 8 games (including a 4 game losing streak from weeks 4-7). In reality the Dolphins play wasn't necessarily inconsistent in 2013, but rather either consistently good or consistently bad. Now 8-8 isn't that bad of a record, however when you were 8-6 going into week 16 and had only New York and Buffalo coming up to play, there has to be something wrong with your ball club. From the outside looking in, we can point fingers all day at the Dolphins, however this 8-8 was a team effort in 8 of their wins and 8 of their losses. From the defensive standpoint, the Dolphins pulled off somewhat of a good season. Although they did allow 124.9 rushing yards per game (ranked 24th in the league) and 234.5 passing yards per game (16th in the league), the Dolphins were able to hold opposing offenses to just 20.9 points per game (ranked 8th in the league in 2013). In only 3 of their 16 games played last season did the Dolphins defense allow opposing offenses to score over 23 points in a single game. Although allowing 20 points per game on a consistent basis isn't what you want from your defense, it is at least better than allowing more than 20 points per game like some other defenses. Reason why the Dolphins team wasn't allowed to get away with their average defense? Their offense.
Don't get me wrong, Ryan Tannehill and the Dolphins passing offense this season was a huge improvement from the year previous, however a lot more could have been done to fix the Dolphins' passing game and help them to get into the playoffs. In the off-season the Phins went out and got former Pittsburgh burner Mike Wallace for a Miami boatload of money as the Dolphins unloaded RB Reggie Bush (stupid move). Now while some were angered at the Dolphins management for paying over $30 million for Wallace, I believe that for some of Wallace's games he didn't deserve his huge payout but then again at the same time he did. In 2013, Wallace went for under 41 yards 9 times, however at the same time, Wallace also was able to catch for over 76 yards 6 times (4 of those 6 times being for over 100 yards). 930 yards and 5 touchdowns isn't all that bad when you think about it although we would have liked to have seen Wallace be able to catch the ball a little bit better (Wallace only caught 51.4% of the passes thrown his way). Where the Dolphins passing game really excelled was in the hands of 5-year vet Brian Hartline (1,016 yards and 4 touchdowns) and young Charles Clay (759 yards and 6 touchdowns on 69 receptions). We have always known Hartline to be as sure-handed as they come, however this season he took his game to the next level, leading the team in total receiving yards (1,016) and receptions (76). Now with that said, let's look at the Dolphins' sophomore QB out of Texas A&M, Ryan Tannehill.
As a rookie, Tannehill's stats were pretty horrendous (58.3% completion percentage, only 12 touchdowns, 13 interceptions and 9 fumbles). However, with the help of his teammates and coaching staff, 2013 was a much better season for Tanny as he threw for 619 more yards (3,913), twice as many touchdowns (24) and a 2.1% better completion percentage. 2013 was a pretty good statistical season for Tannehill at times, but at other times it was his play that caused the Dolphins to lose some big ballgames. In the 8 Dolphin losses this season, Tannehill played less than adequate, completing only 55.4% of his passes for 5.79 yards per completion while throwing 12 interceptions. Had Tannehill not thrown 2 interceptions in back-to-back games against the Bills and Patriots, then perhaps the Dolphins would have won handily, but instead settled for 2 of their 8 losses. Anyways at this point you're probably asking yourself, what is this guy trying to say? Well, I'm trying to say that Tannehill is a good QB maybe not top-10 quite yet, but he's definitely in the top-15. The key is getting him protected so that he has enough time to step back, go through his progressions and deliver the ball with accuracy and speed to his receivers. There is no way a QB can feel comfortable knowing that the defense is always breathing down his neck. An offensive lineman this draft would suit the Dolphins well for the passing game but also for the struggling running game the Dolphins put on last season.
In 2013, the Dolphins running game ranked 26th in the league with only 90.0 yards per game (step down from their 17th ranked running game last season). Reason for this lapse in running ability can most notably be traced back to the personnel running the ball: Daniel Thomas and Lamar Miller. Dolphins fans will most likely fight me tooth and nail about this but in my opinion Thomas and Miller are not that special of running backs in the long term. This season Miller averaged only 4.0 yards per carry and rushed for only 4 touchdowns despite 177 carries. What perturbed me the most about Miller's play was that even though he was capable of putting 60+ yard games with 4.5+ yards per carry, he was also capable of putting up some horrible games, rushing for 7 games of 3.3 yards per carry or less (3 of them included games of less than one yard per carry the entire game). On the flip side Miller did have a good stretch (I'll give him credit where credit's due), from weeks 2-8 Miller was able to rush for 445 yards and 2 touchdowns on 83 carries (average of 5.36 yards per carry). However after that strong string of good games, even when given carries, Miller wasn't able to get above 4.3 yards per carry the rest of the season for the Dolphins. Miller's counterpart Daniel Thomas didn't fare much better in 2013, averaging only 3.7 yards per carry on 109 carries. This season Thomas was only able to rush for over 4.2 yards per carry 5 times. In short the Dolphins rushing attack wasn't as potent as proclaimed and because of it their offense suffered greatly.
Now with all of that considered, what do the Dolphins need to do this draft? Well for starters, keep your starting QB and RBs. Tannehill showed signs of promise last season with his dynamic play/leadership ability at times, while Thomas and Miller went through a case of the streaky blues. I think in the first round the Dolphins need-scratch that-must go with an offensive tackle or offensive guard who has the ability to run block along with protect Tannehill. Allowing your franchise QB to get sacked 58 times is plain unacceptable (disregarding the whole Martin-Incognito scandal). I believe that if the Dolphins beef up their offensive line with an amazing run-blocking offensive tackle than the sky is the limit for this offense (perhaps Greg Robinson or Jake Mathews?). Miller and Thomas did have troubles on the ground because of their own accord, however it was their offensive line's poor play that cost them and the Dolphins some touchdowns and a spot in the playoffs. Look for the Phins to go out and draft offensively minded first two rounds (perhaps draft a receiver in the 2nd round? Help out Wallace and Hartline). Then in the 3rd-6th rounds look for the Dolphins to go out and stock up on defensive lineman and safety help. I think next season if all the right pieces fall into place, Dolphins could really make a run at the AFC East title next season.
Translation=Cyrus Kouandjio
Offensive Tackle, University of Alabama
Out of the University of Alabama, my #19 pick of the draft is one of the biggest and best offensive lineman in the country and perhaps one of the better picks for this Miami Dolphins squad. Out of Hyattsville, Maryland, Kouandjio was one of the country's highest toted offensive linemen. After playing 8 games for the Tide in his freshman year, Kouandjio injured his knee and missed the rest of the season. Fortunately for Kouandjio, Nick Saban and Alabama gave him the starting job his Sophomore season and helped the Tide to win their 2nd straight National Championship. This past season for the Crimson Tide, the 6'5″, 310 Kouandjio impressed NFL scouts once again as he started every single game for the Tide this season. Where Kouandjio is so talented is not only with his brute strength and size, but also his ability to fire off the line and help the running game with some pull-around blocks. Kouandjio is especially skilled with his quick feet and has the aptitude to remain poised, consistent and powerful with his run blocking duties. He has great arm length and strength and can out-muscle anybody who ever gets in his way. Although some other teams with offensive line issues may end up taking Kouandjio before the Dolphins, I believe that the former Alabama tackle will fit well on this Miami squad. Last season the Dolphins ranked dead last in sacks given up with a horrendous 58 sacks allowed to Ryan Tannehill. Not to mention, Miami also had an infamous incident between two of their former offensive lineman who let's say went incognito after their friendship fell out. As well as ranking 20th in passing yards with 222.9 yards per game, the Phins ranked 26th in the league in rushing offense, collecting only 90.0 yards per game. Now while some of that can be blamed on the lack-luster play of Lamar Miller and Daniel Thomas, the majority of the Dolphins offensive problems can stem back to the poor play of the Dolphins' offensive line. Before you can concentrate on anything on offense, you have to make sure your QB is protected and your running game is able to do its best. Kouandjio fits perfectly into this Dolphins roster and if he's given a chance to prove himself, this #19 overall pick could pay some major dividends in the future.
Tags: 2014 NFL Draft 2014 Nfl Mock Draft AFC East Alabama Crimson Tide Auburn Tigers Buffalo Bills Dallas Cowboys Detroit Lions Green Bay Packers Miami Miami Dolphins Miami Dolphins Free Agency Mock Draft New England Patriots New York Jets NFL NFL Draft Nfl Mock Draft NFL News Texas A&M Aggies University Of Alabama