Chicago Bears: 5 Veteran quarterbacks who could replace Mitch Trubisky in 2020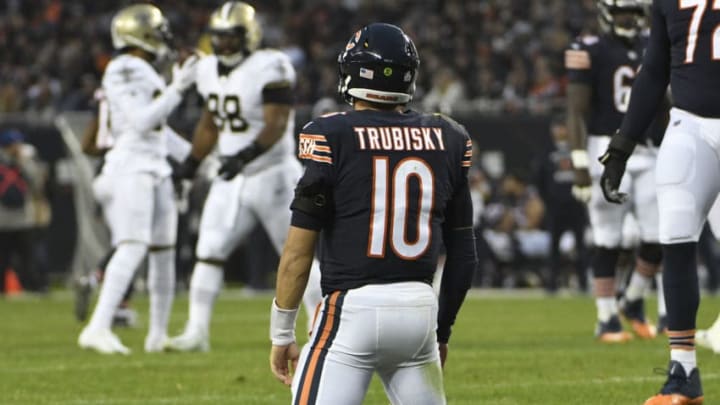 Photo by David Banks/Getty Images /
Photo by Nuccio DiNuzzo/Getty Images /
With the Chicago Bears' situation at quarterback up in the air, they could be looking at a replacement in 2020. Here are five players who could come in next season.
Well, now that the Chicago Bears' playoff hopes are gone, the attention turns to how they can improve for 2020. There are a few areas that need improvement, but no area is more important than the quarterback position.
Injury or not, with the benching of starter Mitchell Trubisky late in their Week 11 game against the Los Angeles Rams, head coach Matt Nagy and the Bears front office face a lot of tough questions. Many don't accept the injury story. Trubisky was having another bad game, looking indecisive with the football and making awful throws.
Whatever happens in the offseason, there will be some kind of change in the quarterback position. Backup quarterback Chase Daniel is a free agent after the season and I don't see the Bears re-signing him. Then there is Trubisky.
Trubisky still has another year left on his rookie deal. He was the second overall pick in the 2017 NFL Draft but hasn't played like a top draft pick. Fans have been frustrated with his play, and now it may appear that the coach is frustrated as well.
In the Rams game, Nagy was pictured a few times looking none too pleased with Trubisky's play on the field. On the sideline, before he pulled Trubisky from the game, he was leaning into the young quarterback and telling him something. He used Trubisky's shoulder and his play card to cover up his mouth so no one could find out what was said. It didn't look like a coach replacing a player because of injury.
All of that fueled speculation that a change is near, even if some in the organization might not agree. Remember, general manager Ryan Pace went out on a limb to move up and draft Trubisky. He took a lot of heat for that move and wants desperately for Trubisky to succeed. This will be an interesting offseason for the Bears.
If the Bears decide to make a change at starting quarterback, here are five quarterbacks they could target.