Derek Carr finally gets a long-term extension from the Raiders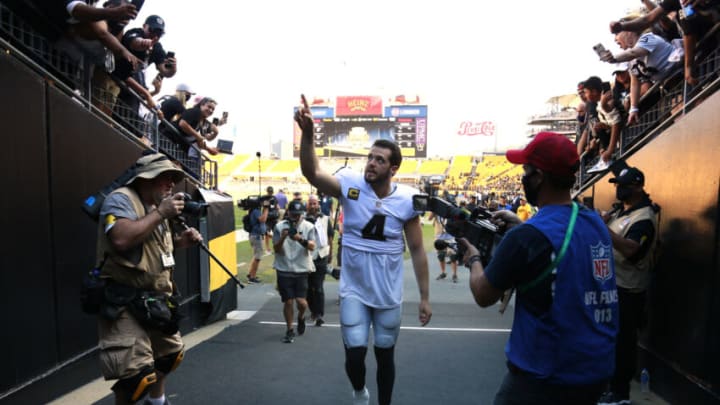 PITTSBURGH, PENNSYLVANIA - SEPTEMBER 19: Quarterback Derek Carr #4 of the Las Vegas Raiders points to fans while running off the field after the game against the Pittsburgh Steelers at Heinz Field on September 19, 2021 in Pittsburgh, Pennsylvania. (Photo by Justin K. Aller/Getty Images) /
The Las Vegas Raiders have made several big signings in 2022 and they weren't done. Quarterback Derek Carr has joined the list and is getting a well-deserved extension until 2026.
Maxx Crosby. Davante Adams. Chandler Jones.
Those three Las Vegas Raiders have either been extended or signed to handsome contracts in the 2022 offseason since head coach Josh McDaniels and general manager Dave Ziegler took over the team. Another name has been added to that list; Quarterback Derek Carr.
McDaniels and Ziegler have preached their positive opinions of Carr to the media but they truly put their money where their mouth is signing Carr to a three year extension worth $121.5 million dollars. Initially specific terms of the contract were unknown but NFL Insider Albert Breer was able to shed some light on the details of Carr's extension.
Carr has been through it all with the Raiders; zero consistency by having multiple head coaches, his best friend and star defensive end Khalil Mack being traded to the Bears in 2018, and basically the implosion of the 2021 season with Ruggs, Gruden, and Arnette. Yet Carr still rallied and secured a position in the playoffs after a five-year drought.
Carr still shows that he is a teammate and leader above all else. While Carr would not qualify for a Patrick Mahomes sized contract his new extension averages out to approximately $40 million dollars a year with his guaranteed money topping out at $65.3 million dollars.
This type of contract is, believe it or not, considered a team-friendly extension. The guaranteed cash and smaller salary in the early stages of the contract benefit the team's cap situation. Carr spoke to the media about his willingness to put the team ahead of himself:
"I went through a heartbreak already last time I signed my contract, my best friend left and I didn't want that to ever happen again. And so, this was an opportunity for me to prove to the team, to the organization, to our fans that the way we're going to structure this is so that we can keep everybody together and really, really have real continuity, really have something to build on. And so, for me, it was like, how do we do that? Usually in these negotiations, how much money can we get? And then they're, how much can we save? And this was just different. There was a learning curve about it, like how do we make that happen to where I feel good and to where the team feels great, like, man, we can still build a championship team around you. And so, that was what was important to us. And hopefully this contract proves that.Derek Carr (via Yahoo! Sports)"
Carr of course is referring to his first large contract extension which gave the team leverage when they explained to Mack why they couldn't, not wouldn't, make him the highest-paid edge defender in the league. Carr has learned from that tribulation and while he got what he earned he did so in a way to improve his team; or what many have come to call the "Brady Method."
Tom Brady, while in New England, was famous (in a way) for taking mid-level contracts that should have been considered "beneath" a player of his stature, especially considering his accolades.
Brady did so in order to give Bill Belichick extra breathing room when it came to negotiations and how much cap space/cash the team had available for free agents. The Brady Method paid off clearly as he currently is running out of space for his collection of trophy rings with only three vacant fingers left.
Derek Carr's future with the Raiders is set in stone. Armed with the best wideout in the league, his other best friend, Davante Adams, Carr is going to be the starting quarterback until the 2026 season when his future will be open to his decision-making.
Until that time McDaniels and Ziegler have set Carr up for a four-year stretch in Las Vegas that will hopefully end with an abundance of success and hopefully at least one oversized ring.