NFL: Which Giant deserved a contract extension – Barkley or Jones?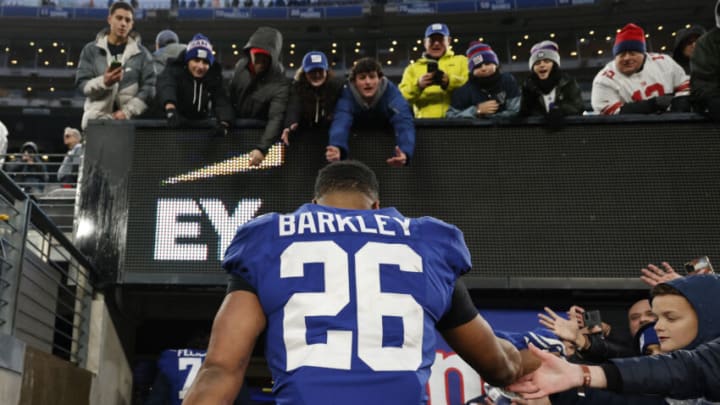 Giants, Saquon Barkley. (Photo by Al Bello/Getty Images) /
Waiting for a contract extension can become nerve-racking, especially for NFL players that deserve a new deal. It's a responsibility that front offices must prioritize for future success. Joe Schoen's team understands this feeling well. His franchise quarterback and cornerstone running back were due for contract negotiations heading into the off-season.
With limited resources to spare, New York decided to show where their priority lies heading into the new campaign.
NFL: New York Giants benefitted from draft capital to build current backfield
Generating production on offense has been a work in progress for the Giants. Multiple stalemates forced the New York front office to consider investing in the future. In 2018, the Giants exchanged their second overall pick to add depth in the backfield. They drafted Saquon Barkley, an explosive rusher from the University of Pennsylvania.
An outstanding collegiate career provided scouts and fans enough evidence of Barkley's skill set. Speed, balance & strength helped Barkley win Big Ten Offensive Player of the Year Honors in 2017 – making him a prime prospect in the NFL draft.
Barkley had an outstanding rookie season, despite the franchise's 5-11 record. He ranked third in rushing yards (1,307), fourth in carries (261), and seventh in touchdowns (11). He instantly became an X-Factor and elevated the offense to a new level.
A disappointing end to Barkley's first season forced New York's front office to reevaluate their depth chart. At the time, Eli Manning was entering his 16th season with the franchise. It was time for a new leader under center, and the NFL draft presented the perfect chance.
In 2019, the Giants exchanged their sixth overall pick for an experienced quarterback from the University of Duke. His career with the Blue Devils impressed NFL scouts but concerned a fanbase anxious for a playoff berth. Arm strength and decision-making were weaknesses for New York's prospect, but did not hinder the final landing spot.
NFL: Who has been more productive in New York – Barkley or Jones
Last season, Brian Daboll led the Giants to their first playoff win since 2011. The Giants defeated the Minnesota Vikings 31-24 during wildcard weekend. A week later, New York lost to the Philadelphia Eagles in the divisional round 38-7. The defeat was disappointing, but was the furthest the franchise has ventured in years.
Contributions from Saquon Barkley aided New York in their regular season journey. In 2022, Barkley ranked third in carries (313), fourth in rushing yards (1,426), and fifth in rushing touchdowns (12). He became the primary option when the offense needed to move the chains. His hard work resulted in wins for the franchise – leading many to believe he was the franchise's season MVP.
A productive year behind center assisted New York's starting quarterback make progressive strides. Daniel Jones' development was evident last season and reflected on the gridiron. He was more comfortable in the pocket than in previous campaigns. His legs helped him extend plays and limit costly turnovers. At the end of the season, Jones ranked 15th in passing yards (3,206) 18th in offensive rating and 11th in pass completions.
When we evaluate both players' production last season, who contributed the most to the success of the franchise? Barkley's impact is irrefutable but overlooked when it became time for contract negotiations.
NFL: New York Giants extend Jones a contract extension and offer Barkley a franchise tag.
Instead of rewarding their workhorse running back, Joe Schoen's front office offered their quarterback first dibs for contract negotiations. Ongoing discussions finally resulted in a four-year $82 million extension. While Jones received a new contract, Barkley received the franchise tag. It secured his services for the year, but won't result in a multi-year deal. Instead, he'll make $10.091 million and is eligible for another tag in 2024.
Navigating through the busy off-season became tough for New York's leading rusher. The Giants front office refused to agree on new terms before Monday's franchise tag deadline, forcing Barkley to accept a one-year deal. Barkley tweeted, "It is what it is" after the deadline officially passed and has been actively speaking his mind regarding the situation.
An interview on The Money Matters Podcast highlighted Barkley's option to withdraw from the 2023 season. He wants to receive what he's worth and will not risk his health for anything less. "My leverage is I could say, f— you to the Giants, I could say f—- you to my teammates," Barkley said. "You want me to show you how valuable I am to the team? I won't show up."
The Giants will continue to prepare for the regular season, but who knows if Barkley will suit up. He deserves a new contract, but may have to wait until 2024 to make it happen.